Queen Anne High School
Class of 1962
55th Reunion
Dear Classmate:
Your Class of '62 Committee worked hard planning your 55th high school reunion. We hope those who joined us enjoyed it and were able to share memories, and where our lives have taken us. Thank you for coming! Click here to see the list of classmates who attended.
Class Directory:
Those who attended received a printed class directory. Those for whom we have email addresses received an email giving them access to a digital (PDF) version of the class directory. If you would like to receive a printed version of this directory, please either mail us a check for $5.00 or click here to pay online, and we will mail you your own copy.
Photos:
We have assembled the photos that we have received for the two reunion events into slideshows for your enjoyment. Since most are wearing nametags, we have limited captions. Enjoy!
Friday Luncheon at Stanford's at Northgate.
Sunday Luncheon at the Seattle Yacht Club.
Reunion Details:
The Class of 1962 celebrated its 55th reunion on the weekend of September 8-10, thanks to the incredible work of the reunion committee, who spend many hours and meetings planning this fun event.
The Friday luncheon "warmup" event was held at the Stanford's Restaurant at Northgate.  Over 20 classmates and guests participated in this no-host event, and fun was had by all. The food was great and the service was better, as those there got a chance to catch up with their respective lives.
The Sunday Luncheon Buffet was held on a beautiful day at the Seattle Yacht Club in the Montlake area. Over 125 classmates and guests came to the party. Classmates had a chance to get reacquainted and up to date on life events. We had two connected rooms to allow ample space to mix in comfort, look at the displays or get lunch or a drink.
A raffle was held to raise money for the Alumni Scholarship Fund. The raffle items were wine donated by Jim Wilson from the Italian winery of classmate Pam (Mangini) Lenzi and mint Seahawk programs from the last home game in the King Dome donated by Kim (Moldenhauer) Willard's husband Gene. The raffle total came to $387 for scholarships. Thank you to all that participated in this good cause.
The afternoon ended all too soon for attendees and some continued the party out in the sun and at later impromptu gatherings. We have received lots of positive feedback about the good time that was had.
We thank you again for coming to your reunion at the Yacht Club! If you weren't able to make it this time, please join us at one of the all-class events during each year and at the 60th reunion in five years.
<![if !vml]>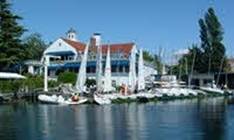 <![endif]>The Seattle Yacht Club.                                                                                                                                              
Your Class of '62 Committee
1615 11TH AVE W
SEATTLE, WA  98119
206-285-0582