Link to Class Online Directory
Class News & Events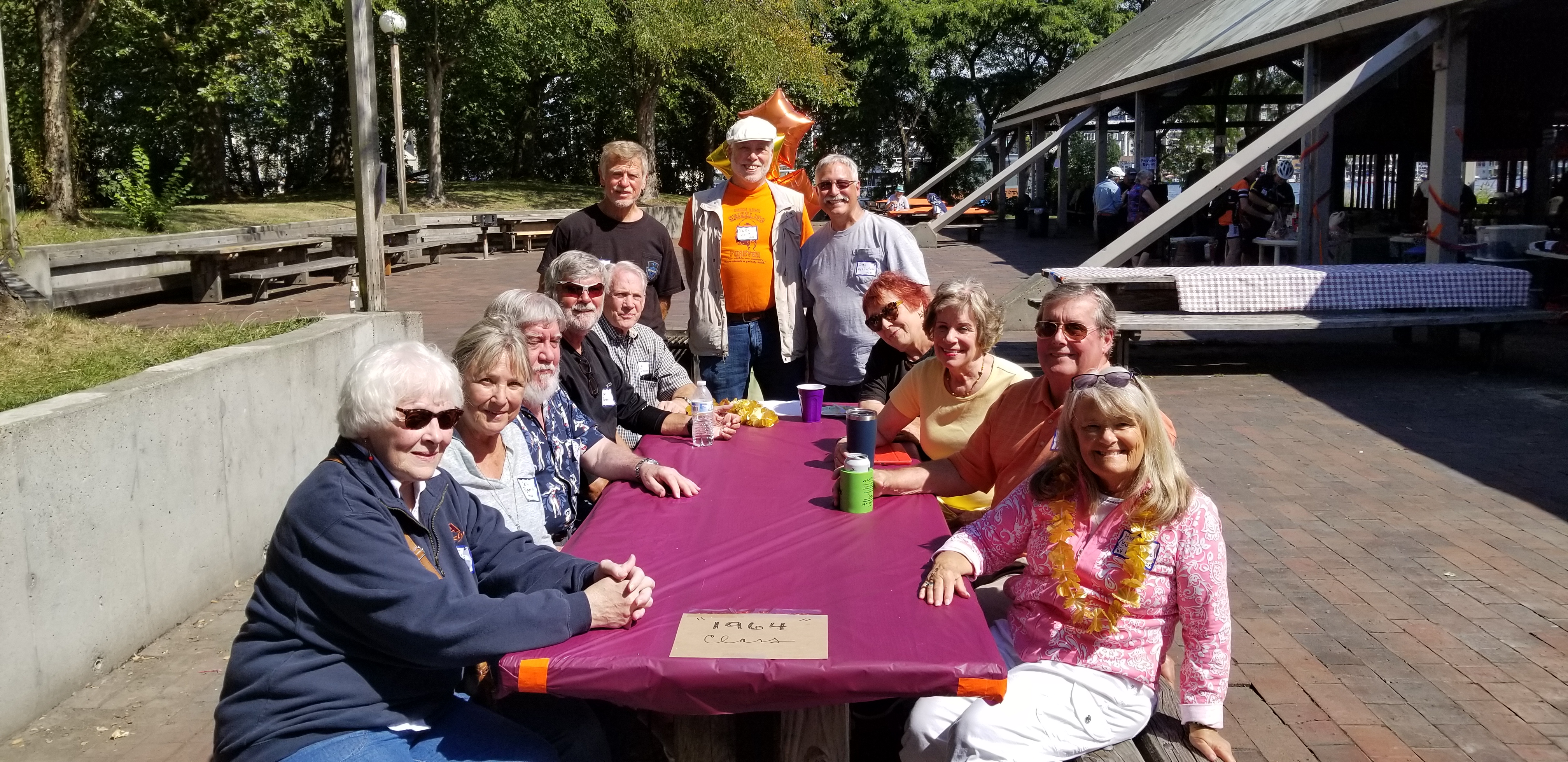 Class at 2019 Picnic
Some... of the '64 class Attendees at 2019 QAAA Picnic
Photo L to R: Maggie (Nichols) Birch, Sally (Bykerk) Brown, Jim Stipcich, John Blakeley, Jim Dorney, Daniel Mann, Sern Watt, Ivan Sutlovich, Pat (Rochefort) Douville, Barbara (James) Tupper, Dick Paulson, Helena (Butterfield) Rowse
Friends Forever Lunch
May, 2017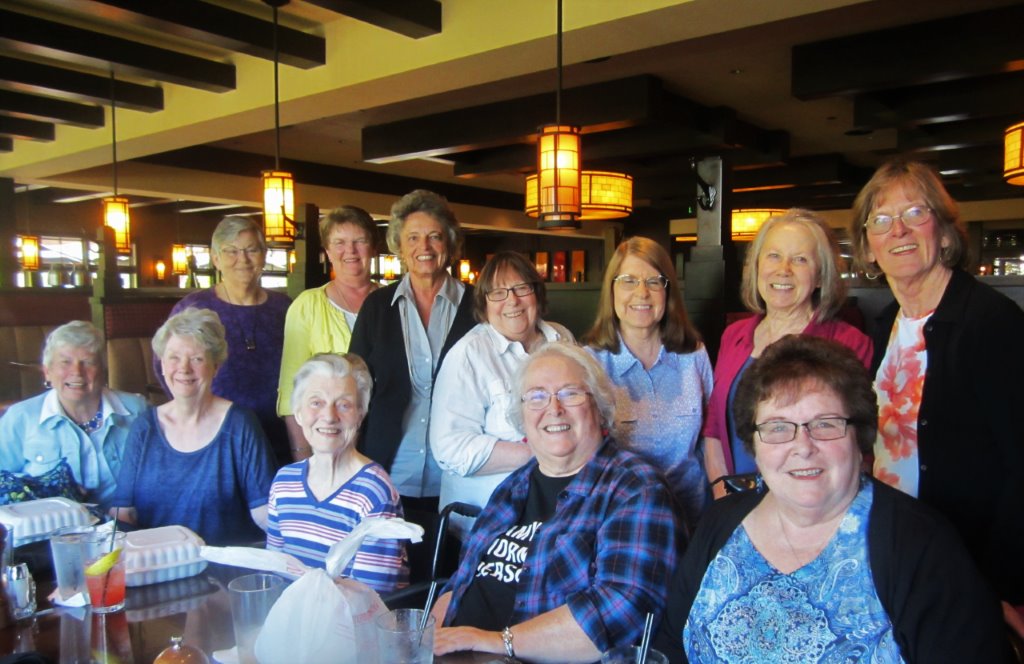 L to R Back Row - Gail [Adams], Martha [Jenner], Sue [Dorman], Margie [Chapman], Jean [Blyth], Sharon [Lorentz], Judy [Fruetel]
L to R Front Row -Mary Ann [Asmundson], Cathy [Fordyce], Virginia* [Seim], Geri [Hughes], Mari [Hughes]*Sadly, Virginia [Seim] passed May 30th.
Class '64 at 2016 Alumni Picnic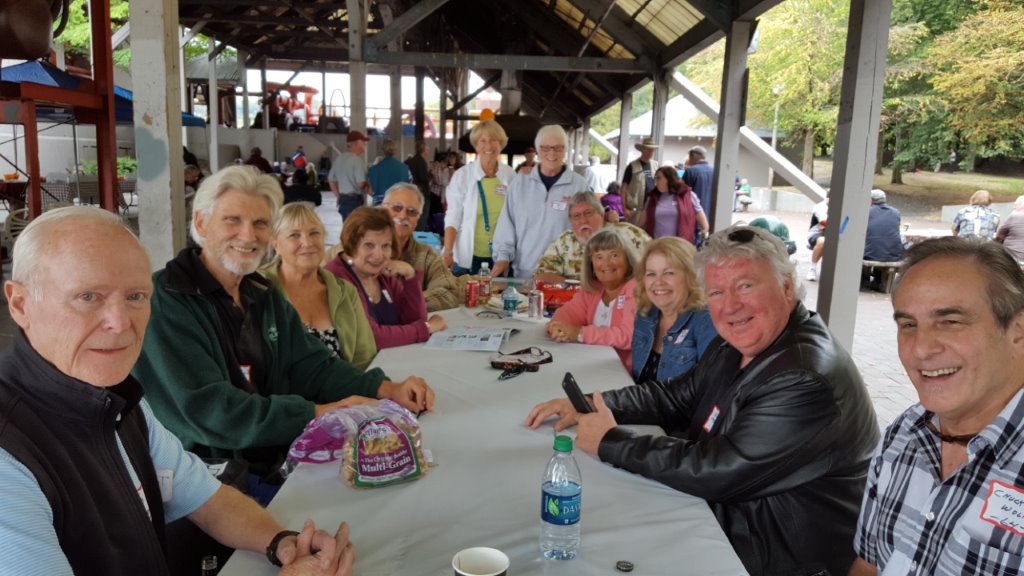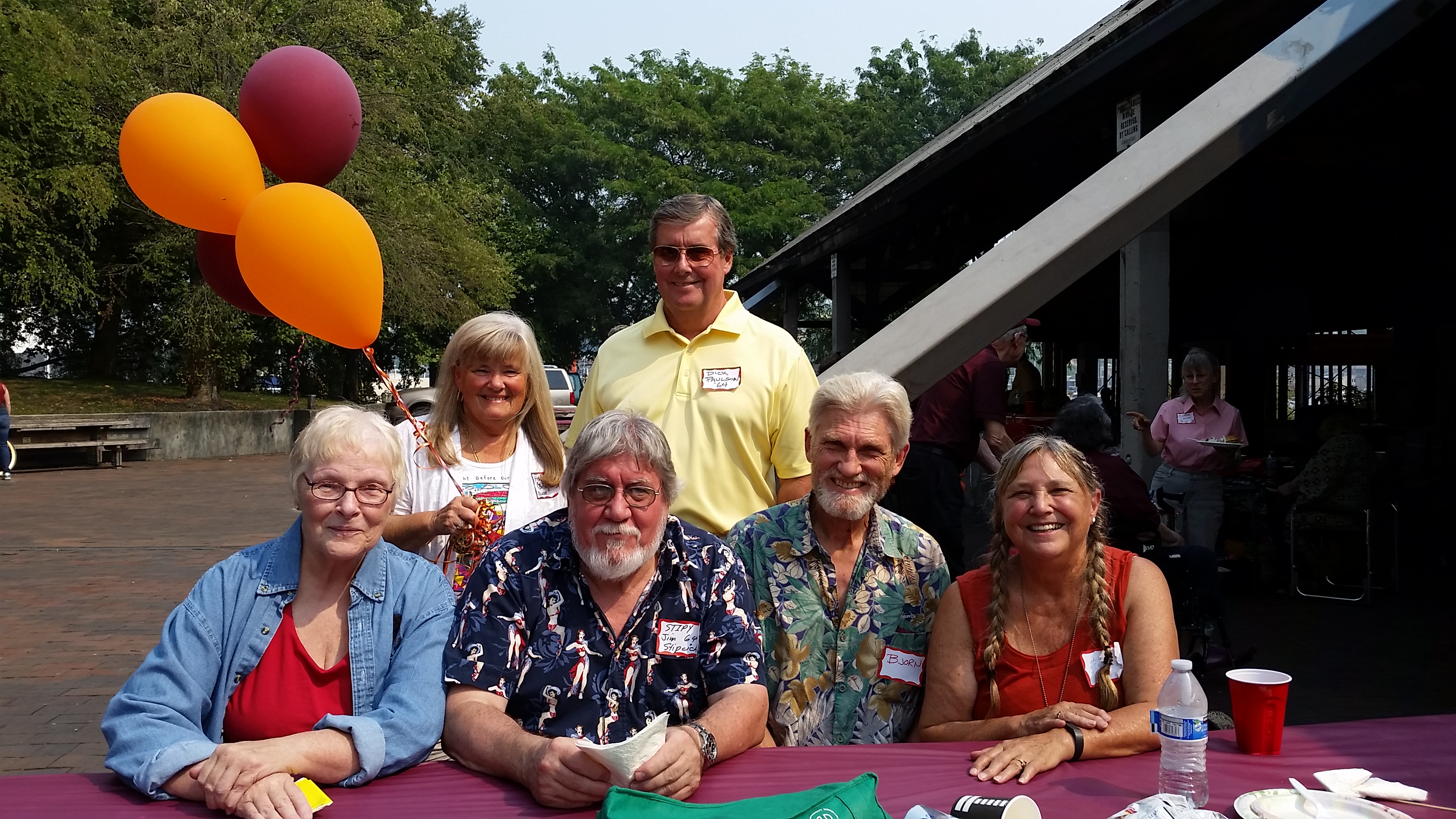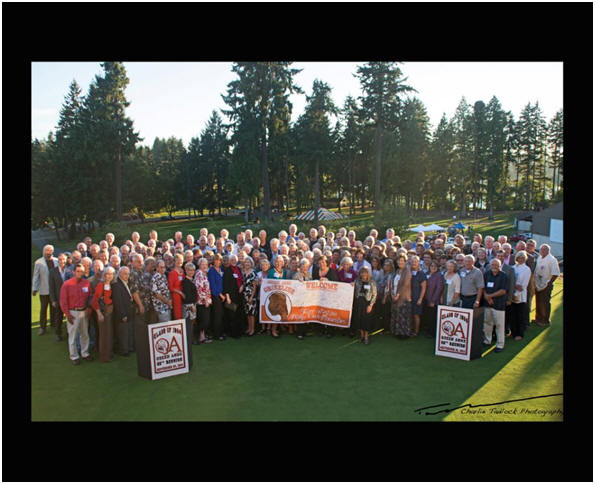 Overview of QAHS 1964 Class ~ 50th Reunion weekend:
September 19-21, 2014
The QA '64 Class kicked off 50th Reunion commemorative weekend on Friday morning with 10AM golf game at Nile Golf & CC. Twenty golfers participated and enjoyed the course (for the most part!). Mike Doyle organized the infamous "First and Last '64 Class 50th Reunion Tournament" event. Pre-game meet-n-greet along with '64 game "rules", donuts & Bloody Marys got the golf clubs swinging. The tournament concluded with prizes, laughter and lies at 19th Hole Café at the Nile Clubhouse.

On Friday after 5PM, the Channel Marker Pub & Grill in downtown Edmonds, WA became the casual gathering spot. Happily it was exceedingly well attended and the enthusiastic crowd of classmates filled the allotted space. Donations were accepted to help defray reunion expenses; everyone attending was graciously generous. The committee chose to tip the wait staff 'extra' for all their efforts during this lively and enjoyable evening.
On Saturday, the main event was held at the Nile Golf & CC. The Committee met earlier in the day to decorate the Ballroom and embellish with QAHS and Class '64 Memorabilia. As classmates and guests arrived to Lobby they were greeted and then invited to Ballroom. Name tags were available for everyone (school photo w/ large font name!) along with Saturday evening Program and remembrance QA '64 50th Reunion mug.
An 'In Memoriam' monitor display was available to view as a special tribute to our '64 QAHS deceased classmates.
Board members from QA Alumni Association were on hand to sell QA logo merchandise.

Social/cocktail hour began full swing straight away…followed by the Group Class Photo outdoors on the green. After a brief announcement banquet service began. Shortly thereafter, 50th Reunion Co-Chairs, Helena (Butterfield) Rowse and Dick Paulson introduced and thanked all the Reunion Committee members and communicated a few recognition announcements. This was followed by a 'Carnac' skit arranged by classmate John Steele. Kudos to John for providing 'witty' entertainment and also for playing music. The Photographer, along with Committee member Kathi (Barrett) Hamilton organized classmate photos grouped by Elementary Schools, which brought together another link of connection (and recognition). Throughout the evening, Videographer Richard Raines circulated the crowd to capture the evening occasion and to provide comments and memories shared by many classmates for an available for purchase DVD.
In summary, the weekend was filled with enthusiastic chatter of happiness, smiles, and good times spent mingling and reconnecting. It hardly seemed possible that 50 years had gone by…as we all looked and felt good. QA '64 classmates celebrated and visited until 11PM Saturday = Last Call!
The final Grizzly Hurrah on Sunday concluded with an exciting football game win by Seattle Seahawks. What a marvelous way to end a fun weekend and milestone event!
The Reunion Committee is appreciative of all the wonderful responses and support from classmates.
Thank You! We look forward to seeing you at another QA event!
Sincerely,
Helena, Dick, Kathi, John B, Jim 'Stippy', Jim D, Mike L, Mike J, Barbara, Judy, Dean, Howie & Ralph.
Class64@qagrizzlies.org
Adventures on Board the Spirit Yacht
Follow the adventures of Miriam Lavik ('64) and her husband Patrick Gill ('65) as they cruise along the Alaskan Coast in their 60' custom yacht by following this link.
Two Classmates Hold A Small Reunion
Anne Minium '64 sent in this item
Susan (Levy) Eberhart came down to Orange County, California to spend a weekend with me and attend a Mariner's/Angel's game. Stewart Title has clubhouse seats which we used for the game. Susy was not shy about rooting for the Mariner's; since I'm a Yankee's fan, I did't care who won and the Mariner's actually took all four games in the series.
It was an enjoyable weekend for two friends who hadn't seen each other since the 20-year class reunion. That didn't seem to matter; it was like 40+ years had never happened, we just took up where we had left off. I encourage all of you to look up an old friend; the rewards are limitless.