Al's Hamburger Shop
The History of Al's Hamburger Shop
By Bob "Sharkey" Guichard , '49-'50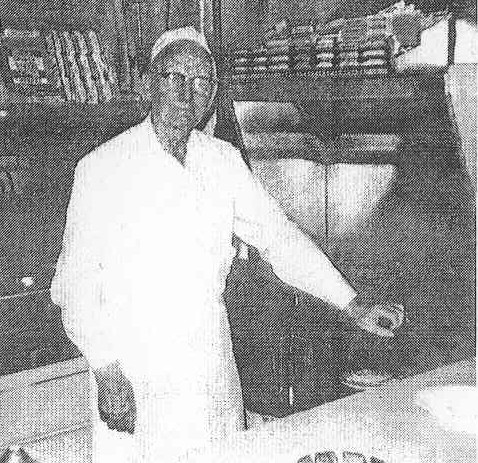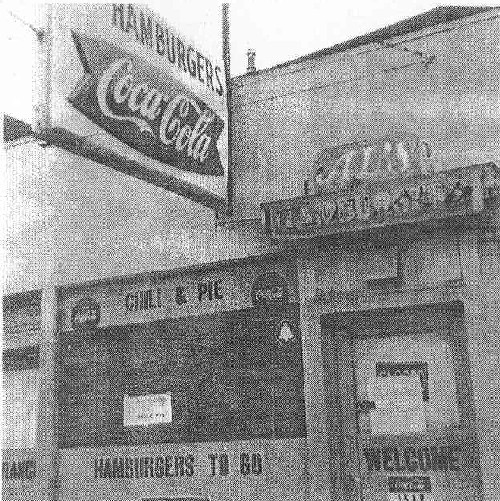 Almost everyone who lived on Queen Anne Hill or Magnolia Bluff between the 1920s and 1970s has gone into or heard about Al's. Al's was owned, managed, and operated by Al Gordon, an irrascible but loveable Scotsman.
The History
Al's Hamburger shop began in 1926 (Great Depression Era) and continued all through the Second World War, Korean War, Vietnam War and times of peace until Al retired in 1971. Al's Hamburgers was at three locations.

1. He started in an old streetcar (dimensions long and narrow), diner style with counter stools and benches. It burned down around 1948.

2. He located the shop right next door in a one-story building which had many other local businesses. Both of these locations were at the corner of Queen Anne Avenue and Galer St.

3. The last location was at 1517 Queen Anne Avenue halfway between Carl's Tavern and the Queen Anne Bowling Alley (formerly the Queen Anne Theater - "the Dink.")

Al Gordon was quite a character, a somewhat cynical but likeable and generous guy. Al wore a white cap and apron behind the counter. He put up with a lot from all the high school and college kids (some grade school kids, too!), Seattle Transit bus, trolley, trackless trolley, and counterbalance cable car drivers, mailmen, taxi drivers, businessmen, factory workers, etc. Al's was pretty much a male hangout with a lot of man talk about sports and politics but never about "women." Lots of smoke and pinball machine noise. We remember three of the better pinball jockeys - Bill Jordon, '46, Lee Amundsen, '47, and John Cochran, '48. Al used to yell, "Hey, Amundson, quit bangin' the machine, or you're out of here!"
The Restored Grill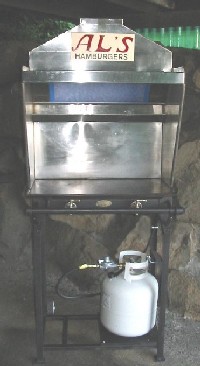 The Menu
Hamburgers and cheeseburgers with pickles, onions, and Al's special sauce (a ketchup and mayonnaise mix, we think), chili, milkshakes - chocolate, strawberry, or vanilla - coffee straight in an old-fashioned white coffee mug, milk, and soda pop. Best Pie Company pies - mainly apple, cherry, or banana cream - a la mode, of course. A standard order: "Hey, Al, give me a body builder with everything on it and a chocolate shake."
Legend
Old Al carried a lot of the guys on the tab, especially during the Depression and WWII. Most of us students had thin wallets in those days. He said a lot of the guys paid him back and he received money in the mail from servicemen in the South Pacific and Europe during WWII.

During the Depression Era, Al's was open all night. It was a great spot for coffee on a cold winter night or recovering from an evening at Carl's Tavern, which was approximately 100 feet due north across Galer Street. Al's was a popular hangout with good food, a lot of laughs, jokes, tall tales, and many great friends. (Sadly, some of them are not with us today.)
Back to History and the Hamburger Grill
About 25 years ago, I was up on the "Hill" on business, so I thought I would stop in for lunch at Al's for a hamburger and coffee. To my surprise, the place was now called "Uncle Al's." I went in and ordered a hamburger and the guy behind the counter reached in the freezer and took out a frozen hamburger wrapped in cellophane and put it in a microwave overn. Horror of Horrors!! I said no thanks and asked him where was the famous old "Grill." He said he threw it out in back of the shop. I asked if I could take a look at it for nostalgia's sake. I walked out in the rain, and it was rusting on the ground with a lot of other junk. I was in shock! My heart was thumping. I caught my breath, went back in, and said to "Uncle Al," "How much do you want for that old beat-up grill?" He said $25.00. I didn't want to appear too eager because he might jack up the price. I took it and immediately put it in my station wagon and left in a hurry. When I got home, I called Al Gordon and informed him about what I had done. Was he ever upset at "Uncle Al!" His Scotch temper and blood pressure leaped and a few expletives came out. I told him I would take good care of the "Old Grill." He said he purchased it in the late 1920s for $15.00 at a second-hand store on First Avenue around old Belltown.
More History: Fast Forward January, 2003
The classes from the late 1940s-early 1950s have a monthly luncheon at the Yardarm in Des Moines. In January some of us were looking at Don Ridge's book, Take a Lap, about the Queen Anne Boys' Club/Seattle Ramblers football teams. There was a full page of pictures about Al's and I said I had Al's old hamburger grill in the back of my storage shed. It's been there all of these 25 years. Doug Froling, '48, has done yeoman work refurbishing the old grill and it looks just like new. Ron Selset, '50, made an iron mobile stand (with wheels) for the base. Dale Keller, '48, has rounded out the history by obtaining pictures from Don Ridge's collection A big thanks to these guys for all their efforts. We are planning to set up the grill and fy hamburgers at the Queen Anne Alumni Picnic in August at Magnolia Park so all alumni can have a treat from the past.

Dale said, "Doug, we will pay you for all your hard work but not to exceed $1.25 an hour. I will get back to you after I speak to the following Board of Directors at the Yardarm: Vern Anderson, '50, Dick Kraabel, '49, Bob Houbregs, '49, Jim Burton, '50, Bud Burrill, '48, Ray Grover, "48, Jim Richstad, '50, Alden Van Campen, '49-'50, Ron Selset, '50, Joe Ferluga, '49, Jack Strayer, '49, John Lazzar, '49, Dick McMurtrie, '48, Bob Johnston, '49, Bud Hansen, '49, Glen Werner, '49, Bob Waitt, '49, Dale Keller, '48, Doug O'Brien, '50, Doug Froling, '48, Dick Gilbert, '49, Joel Nazarenus, '50, Don Williams, '49, Bob Guichard, "49-'50, Dick Gilbert, '49, Ben Noble '49, John Zirckel, '49-'50, Don Rogers, '49-'50, almost '51, plus occasional Snowbirds."

All male Grizzlies come and join us at the Yardarm Pub and Broiler in Des Moines on the 1st Wednesday of each month at 11:30 AM on. (A shameless plug.)

We all have memories of the good old Queen Anne High days - the Grizzly Inn, the Dink, dances, parties, picnics, lazy days at the beaches, old friends, and Al's. How times flies!! God Bless to all.