Neal Vonada: The voyages of Grandpa Time
A Story From The Queen Anne News
While everyone was turning back clocks last weekend, the phones at 206-361-TIME were ringing off the hook. A familiar recorded voice, low-key and comfortable, announced the new correct time, date and temperature. Then the speaker, who identifies himself on the line and on his Web site as "Grandpatime," suggests that if you'd like a few stories or comments, you might want to dial 365-1659. The equipment can handle up to 9,000 calls. Some callers are just lonely, wanting the sound of another voice. Many live alone; some are blind. Some are bi-polar or have other mental illnesses and simply need the feeling of being connected. Others dial in because they feel they have found something unique, an oasis in a world that seems increasingly harsh.

Most of the listeners would be surprised to learn that the voice is that of a 76-year-old Queen Anne High School alum who dropped out at age 16 to join the Merchant Marine, and who experienced World War II in both Pacific and Atlantic waters.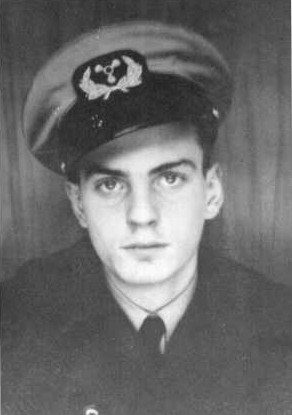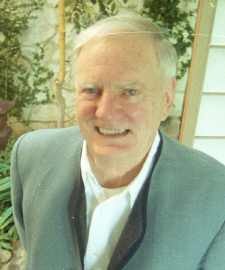 Neal Vonada, '45, in 1943, Neal Vonada, '45, in recent
a high school dropout (temporarily) photo from his Web site at
and merchant seaman. www.grandpatime.itgo.com.
Today Neal Vonada remembers coming back to Queen Anne as a 17-year-old veteran whose second stay in Queen Anne High School turned out to be a brief one. "The English teacher asked us to write an account of how we had spent the summer. I wrote about all the Panamanian nightclubs I had seen while waiting for a ship. She asked me, 'Why did you write this in first person, almost as if you had been there?'

"It wasn't long before a teacher named Bassford recommended I transfer to the new veterans' program at the old Broadway High School."

Despite that brief interlude, Vonada has been an enthusiastic participant in Queen Anne High School reunions and served on reunion committees. He emceed one reunion when the chairman of the group was unable to attend. Though he now lives in another part of Seattle, he finds his way back often, maintaining friendships that have been in force for years.

Recently he and Ronald Wyman, his buddy from West Queen Anne Elementary who hopped the same freight train Neal did to get to their first ship, spent a day reminiscing. They talked about their first week on board.

"We thought we were reliving all those Jack London sea stories we had been reading," Neal recalled. "One of those first days, a large Navy tugboat was helping us dock an aircraft carrier. Suddenly the carrier's propellers ripped open the tug, and [that tug] swung into ours. Ours was the S.S. Sea Queen, a pioneer steam tug from the 1890s. Navy men were jumping aboard with us as their ship was going down."

Sixteen-year-old Neal stopped a crewman who was about to tie up their tug to the sinking one. "If he had, we would have both gone down in a matter of minutes."

Before he was 18, the young Neal had seen service in both war zones, been under enemy fire and survived one submarine attack. Finally came the long haul from Panama to New Orleans, heading home.

Neal revealed that his high school studies could have been useful in his war service. "In 1943 in Herr Uhl's German class, I would have paid more attention if I had known I would soon be walking five feet from the men in a long line of submarine prisoners, probably from the U-505 passing through a quarantine compound in Panama. I could not tell from their uniforms what nationality but learned later they were German. They looked very somber and unhappy."

"We were towing a disabled freighter on a deep-sea tugboat at walking speed. When we finally reached New Orleans, I had to wait two weeks for my pay, two weeks in the St. Charles Hotel in the very heart of the French Quarter, with a French pianist playing in the Absinthe Bar, the oldest bar in the nation. He'd put his heart into 'The Last Time I Saw Paris' - singing in French, of course. But I think I remember singing along.

The troop train heading north to Seattle was packed. And the innocent-looking, blue-eyed 17-year-old was taking money from soldiers who had winked at each other when they invited him into a poker game. "I even felt guilty about it."

Vonada's return to his mother's Queen Anne apartment was not an auspicious one. There was a note on the kitchen table: she and her new husband had gone to Alaska to work until the war was over. Neal followed. He spent a summer alone on a remote island guarding a fish trap. After a stay in Ketchikan High School, where he was on the honor roll, he felt a longing to be back on Queen Anne. He returned and earned the first GED diploma issued in Seattle.

"The ink was still wet. They called me into the office, said they wanted to meet the fellow with the highest score."

There followed a succession of jobs. And after a business career that soared and enabled him to retire at age 41, Neal still credits much of his success to two of those early jobs: selling Fuller brushes door to door and selling cemetery plots for Evergreen-Washelli.

"I loved those jobs. I'd sell Fuller brushes in all the big business buildings downtown. I had to quit going to one of them because the manager kept pressuring me to sell insurance for them and named a hefty figure. I didn't have the heart to tell him I was making more selling brushes."

The mobile home and recreational vehicle business, just coming into its own in the 1960s, started in a small way for Vonada. "I was living in a 32-foot trailer. It was more room than I needed, so I rented out half to a friend. That worked pretty well, so I told my mother I thought I'd buy another trailer and live in that and rent the other one out." Before long he had trailers rented out in many places, often as temporary housing for people building a home or working on construction jobs.

In a short time Neal owned five lots that sold mobile homes and RVs. He organized and headed an industry association for putting on stadium shows. Other ventures followed, including the development of a strip mall.

So why does a man who could be spending his "golden years" in a sailboat off the sands of Bora Bora choose instead to spend his time providing a "telephone refuge" to strangers?

Partly, he says, it was the sense of what his customers had done for him and his resolve to, in some way, "pay back." Even more may have been the death of his first wife, Joan, at age 36 from cancer. "It changed me," he says now.

Vonada met his last wife, Jan, at a party.

"I turned around and there she was, not a foot away from me, looking straight into my face. I thought, That's a strong, independent woman, to stand so close. I want to meet her."

Several years into their marriage, he reminded her of that moment. "Oh, yes," she remembered. "I had lost my contacts and I was trying to see what you looked like."

But Jan, too, lost a battle with cancer, and Neal was left with three children to raise alone.

"Grandpatime's" two call lines are not Vonada's only interest now. He is a member of the prestigious international Mensa organization, dedicated to the advancement of intelligence in the world. As such, he organized and participates in a 100-member e-mail group that has members around the world. His participation in an e-mail widows-widowers group elicits many of the same appreciative comments he gets from his phone listeners.

Neal makes no apology for the fact that he is self-educated and does not have a college degree. A story is told about a party at his house where a guest, looking out at the spacious grounds, asked, "Where did you go to school?"

Vonada replied, "I went to Queen Anne High School."

"No," persisted the guest, "I mean, where did you go to school?"

"Oh," said Vonada, "I went to West Queen Anne Grade School."

Vonada's late wife was passing by at the moment and overheard. "That," she told him after the party, "was when I realized one of the reasons why I love you!"

In 1988 the city of Seattle discontinued its free TIME phone line. Sensing that there was a need for this service, and spurred by the fact that he now owned an electronics store and could set up the equipment, Vonada took it over as a volunteer service. (He also provides big, lighted time-and-temperature signs on three properties he owns in the Seattle area.) The talk line came when he realized there were people who were looking for more than the time of day.

The Grandpatime talk line has available 84 hours of tape, of which about 28 hours are in use at the moment, updated often. But it is more than a collection of jokes, reminiscences and philosophy. There is a feel of Mark Twain in all of it, but the humor in his own observations is softer, often subtler even than Twain's.

Much of the appeal comes from the delivery. It is informal ("Let's see, where did I put that?"), grandfatherly, intimate. Topics vary. On a recent link Vonada gave a vivid description of early-days theaters in Seattle. He gives the location of the planets on a particular night. There are sea stories, ideas for self-help. The approach is nonpolitical. There is positive thinking in easy-to-take doses.

Neal's jokes are the quiet kind that sneak up on you. Sample: the woman in the senior center who advertised for a "long-term relationship," adding, "I have buried four husbands and would like to round out the six-unit plot." That's about as racy as they get.

There is a five-minute space here and there for comments; if there is a complaint about any piece of material, Vonada removes it immediately. He says reactions are 99 percent positive, though one woman threatened to find him and "kill him with an ax." (Later, when she was back in treatment, she called and left an apology and a "thank you for being there."

Those five-minute response opportunities get a lot of "thank yous" and "bless yous." Here are a few others:

"I don't know what I would do if I didn't have you to call in the mornings."

"I lost my sight in Vietnam. Thanks for your time and stories."

"You remind me of my dad, full of logical ideas."

Twice, callers reported, "You saved my life," listening to him in the middle of the night.

Then there is this e-mail from a Mensa group he wished to resign from: "Sorry, Neal, your request to be deleted is denied. You provide us with giggles, emotional warmth and precious insights into ourselves and others. You can't go."

Neal rarely meets any caller face to face. But on a recent October afternoon he took longtime caller Mary to lunch. Mary often leaves messages, and Neal had been impressed with her cheerfulness and positive attitude long before he learned of her troubles.

Mary is blind and has lost hearing in one ear. She is bipolar but stays on her medication and has held a responsible job as switchboard operator at University Book Store for more than 25 years. She received a kidney donated by a friend but was on dialysis for two years before that. She was injured in an auto accident.

"But never a word of complaint. Not one." Neal Vonada shakes his head. "What if we were all like that?"
The author of this article, freelance writer Florence Ekstrand, was editor of Queen Anne News from 1968 to 1980.