Link to Class Online Directory
Class News & Events
Class'62 Holiday Luncheon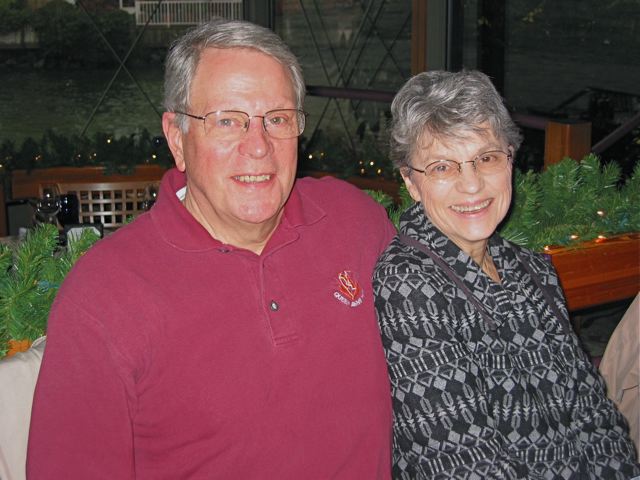 Some members of the Class '62 get together every two months for lunch. The Decmeber luncheon was held at Anthony's Home Port Shilshole Bay Decmeber 11, 2014. Follow this link for a photo gallery of the event.
First Annual WQA '56 (QAHS '62) Luncheon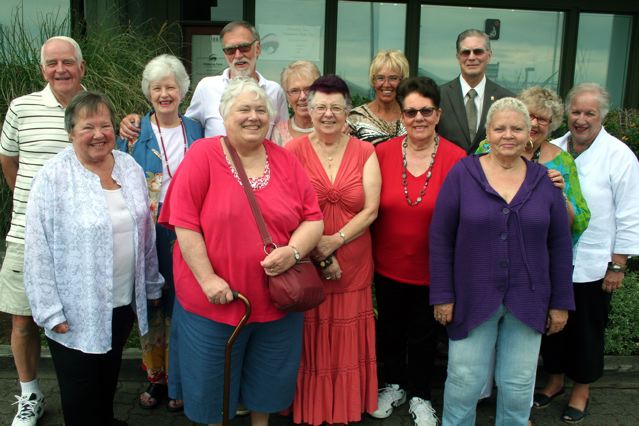 A group of West Queen Anne's class of 1956 got together for lunch at Arne's in Edmonds on August 1 for the First Annual WQA Luncheon. Anyone who missed it this year can try to make it next year. Some of the attendees hadn't seen each other in almost 60 years, so they had lots to talk about and there wasn't enough time to get caught up. That's why this will become an annual event. The organizer was Gail (Hobson) Martini-Peterson '62 (gcmartini@mindspring.com or 206-284-3799), and she continue to collect emails and addresses so more people can be invited for the next luncheon. In the picture the females are identified by their maiden names.

Two alumni who planned to attend had to cancel last minute. Judy Ogden couldn't make it, and Carol Welker had fallen and injured her knee.

Top row: Bob Crothers (husband of Linda Ubags), Linda Hedberg, Chuck Richards, Marsha Thompson (slightly hidden), JoLynn Goodwin, Alan Rowberg. Vicki Benson (peeking around Naomi's head), Sharon Johnston
Front row: Linda Ubags, Kathleen Holmes, Vicki Badams, Gail Hobson, Naomi Foote

Class '62 Reunion Report


The Class of 1962 celebrated its 50th reunion on the weekend of September 7 - 9, thank to the incredible work of Chair Nancy (Welden) Williams and a committee of over 20 classmates. The Friday night "warmup" event was held at the Ballard Elks on Shilshole. Over 200 classmates and guests participated in this free event, and fun was had by all. There were many easels set up with photos and other memorabilia prepared by Linda (Willis) Dagg for the classmates to view and enjoy. The food buffet was plentifully supplied by Lynnea (Pearson) Manning and her team. The decorations for this event and the Saturday event were ably prepared and presented by Anina (Tardif) McCormick and her helpers.
The Saturday banquet was held at the Seattle Design Center Atrium in the Georgetown area, carefully orchestrated by Burt & Ralene Walls with the help of many others. Over 270 classmates and guests came to the party. Individual photos were taken next to a period 1957 Ford Thunderbird as folks arrived. Music was played while classmates had a chance to get reacquainted and up to date on life events. A group photo was taken just before dinner and it was like herding cats getting everyone lined up. During dinner, the program showed a video of hundreds of photos of classmate from different period of our lives. After the video, Elvis entered the building to sing some special songs provoking our memories from good old Queen Anne High. The evening ended all too soon for attendees to have gotten a chance to see everyone there.
Sunday was a chance to get a tour of the Seattle Center during its 50th reunion celebration, set up by Barbara (Amies) Lyons. Docents from MOHAI guided over 75 of us around the Center discussing the history and architecture. Many of us met for lunch at one of the many places to eat, for a chance for one last visit before we all went our separate ways. Classmates had such a good time at the various events, they repeatedly told the committee to start planning for the next reunion in five years. Nancy, exhausted from all the work and fun, was surely thinking, "Easy for them to say."
Contact us for more info